Videography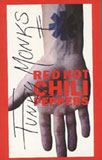 Funky monks
Released : 1991
Directed and filmed by: Gavin Bowden
Approximate running time: 60 min.
Warner Reprise Video
A fly- on- the- wall style
documentary
on the making of
Blood Sugar Sex Magik
.
The group recorded their infamous album in an - allegedly haunted- villa, far from the maddening crowd, in which they lived during the whole recording period of three months. The camera follows them through their rehearsals and recordings as well as their daily lives. Discussions and soliloquies, from the deeply philosophical to abandoned sillyness, enrich the footage of the recording process.If one could only afford one of their videos this would definitely have to be the one.
(Review by Fuxia© for Troublekids)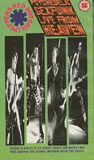 Psychedelic Sex Funk Live From Heaven
Released :1990
Directed by Doug Freel
Approximate running time: 40 min.
EMI Music Ltd.
Live concert footage from the
Mother's Milk
Tour mixed with entertaining backstage scenes.
Very well edited and powerful stage imagery. Gives one an infectuous taste of the vibrant energy, the "whiplash effect" (Flea) of the Peppers live shows. Moreover these scenes illustrate without words that wonderful band chemistry, which fuels their music and live gigs.
(Review by Fuxia©)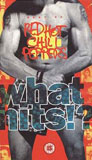 What Hits?
Released : 1992
Approximate running time:60 min.
PMI Picture Music International
Compilation of Pepper's videos and live gigs from
Red Hot Chili Peppers
to
Mother's Milk
:
1. Behind The Sun 2.Under the Bridge 3. Show me your Soul 4. Taste The Pain
5. Higher Ground 6. Knock Me Down 7. Fight Like A Brave 8.Jungle Man (live) 9. True Men Don't Kill Coyotes 10. Catholic School Girls Rule 11. Fire (live) 12. Stone Cold Bush (live)
13. Special Secret Song Inside (live) 14. Subway To Venus (live)
Not quite as well edited as "Psychedelic.." although all live footage from Mother's Milk is taken from the same rushes. Contains some brief backstage scenes as well. Gives an overview of the changes in style the Peppers have gone through, over this period of time. Including their first guitar genius Hillel Slovak and one of their famous "cocksock" stagings (in Jungle Man).
(Review by Fuxia©)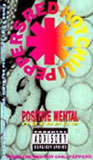 Positive Mental Octopus
Release Date: not known
Contents:
1. Taste The Pain
2. Higher Ground
3. Knock Me Down
4. Fight Like A Brave
5. Fire
6. Catholic School Girls Rule
7. Jungle Man
8. True Men Don't Kill Coyotes
Mixed: Studio / Live
Label: EMI Video
Catalogue No.: 01614

New!: Off the Map
Released: Dec. 4th 2001 Label: Warner Bros. / WEA
Technical and Order Info
Tracklist:
DVD Special Features:


·Around The World

·Give It Away

·Usually Just A T Shirt #3

·Scar Tissue

·Suck My Kiss

·If You Have To Ask

·Subterranean Homesick Blues

·Otherside

·Exclusive Backstage Material

·Band Interviews

Additional Live Tracks:

·Skinny Sweaty Man

·I could've Lied

·Parallel Universe

·Sir Psycho Sexy

·Search And Destroy

·Blackeyed Blonde

·Pea

·Blood Sugar Sex Magik

·Easily

·What Is Soul?

·Me & My Friends
Review: Frankly, the quality both of images and sound of the regular tracks are way below par. Dissapointing.
The special additional tracks (only available on DVD!) are very good, obviously done by another team, the live versions are wonderful, and backstage material is funny.