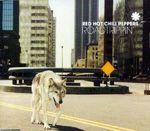 1. Road Trippin' (Album Version)
2. Californication (Live)
3. Blood Sugar Sex Magik (Live)
4. Under The Bridge (Live)
The video for "Road Trippin" is shown on MTV Stations all over Europe now!
"The Jonathon Dayton and Valerie Faris production set the band in a house on the beach: Using a warm sepia/yellow/orange colour scheme, soft lens and superimpositions throughout, the video depicts John and Flea playing guitar while Anthony is singing. Scenes of the interior of the house bathed in a warm late afternoon glow from panorama windows overlooking a beach, intermingle with shots of Anthony running along a beach playing with a young dog, or the artists' torsos framed by a blazing fireplace.The overall feel is tranquil, profoundly content and glowing. Rarely have I seen a video whose imagery corresponds this well with the song!"
(Review by Fuxia©)
The single Road Trippin' hit continental Europe on December 4th 2000.This latest release from the award winning album Californication is available internationally only.